Echo cancellation, which is a key ingredient towards high-quality communications, appears to be a very challenging filtering task due to a number of inherent peculiarities. In an ideal communication setting, the loudspeaker at the far-end would either exclusively transmit the voice of the person at the near-end or nothing if this person is silent. This should be the case irrespective of whether the person at the far-end is speaking or not. However, in realistic conditions, this is not true; the far-end speech signal travels through the communication channel and it is transmitted via the loudspeaker in the near-end room.
Due to the room impulse response and delays in the communication line, the microphone at the near-end captures a filtered version of the far-end speech, which is transmitted back to the far-end in the form of annoying echo. In wired communications, even when a room is not involved in echo generation, known as acoustic echo, electrically induced echo appears due to unbalanced coupling between the 2-wire and 4-wire circuits. The echo cancellation task aims at estimating the impulse response corresponding to the echo path. Doing so, the echo can be reproduced at the far-end and be subtracted from the received signal. In this way, the received signal is cleansed from the echo before its transmission through the loudspeaker. All modern communication systems carries in one way or the other types of echo cancellers. Advances in this topic are important for future immersive communications.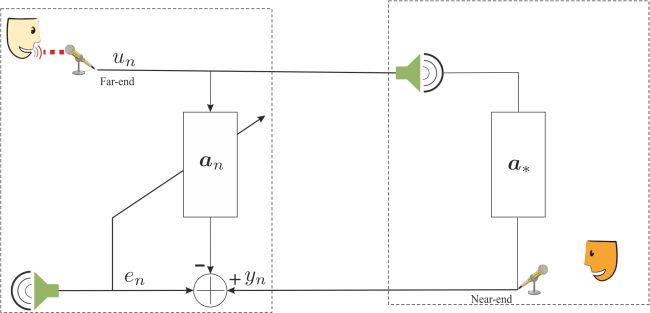 In SOL project, the fact that the room impulse response is sparse was exploited. Moreover, the problem is inherently online and time-varying rendering it suitable for the techniques developed in SOL project.